Iron Dragons spawn in Taiga biomes, on top of a large tower with Ice Giants at the bottom.
The Iron Dragon is a large creature and can be dangerous due to the high hitpoints, and ability to knock you off the high tower that they spawn on with their fire attack.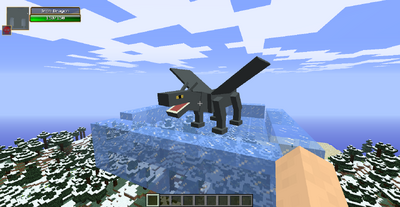 To prevent them knocking you off, you should assemble a 2 high wall of obsidian all around the spawner, and some way of entering and exiting if you're planning to farm these.
| Item | Drop Rate |
| --- | --- |
| Iron Sword | 1/3 |
| Iron Chestplate | 1/5 |
| Gold Ingot | 1/20 |
| Rune chestplate | 1/50 |
| Dragon Dagger | 1/200 |
| Dragon Platelegs | 1/500 |
| Godsword Shard 2 | 1/2000 |
| Xp Orb (2) | 100% |
| | |
| --- | --- |
| Hitpoints | 150 |
| Hostile | Yes |
| Type | Undead |