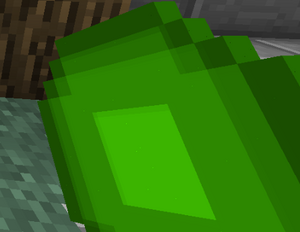 Xp is required to level up for all current skills. There are three types of xp orbs, Combat, Boss and Mining xp orbs. There is also an xp block for Agility. You can check what level you are with the Stats Page item.
Combat Xp
When a ScapeCraft mob is killed, they will drop an xp orb. Each xp orb gives you one experience towards the level the orb is related to.
Leveling up combat will allow you to equip and use better gear. If you do not have the combat level needed to wear a set of armor, you will be reduced to 2 hearts. To fix this, simply remove a part of that armor set.
Boss Xp
Scapecraft bosses will drop Boss Xp Orbs. Boss Xp Orbs give you six combat experience.
Minning Xp
Ore Spawners (Stone, Coal, Iron...) drop Mining Xp Orbs when mined. Each orb gives you one experience in the mining skill. The mining skill allows you to mine quicker. 
Xp Drops From Ore

| Ore | Dropped Xp  |
| --- | --- |
| Stone  | 1 |
| Coal | 2 |
| Iron | 2 |
| Gold | 4 |
| Redstone | 0 |
| Diamond | 0 |
| Emerald | 0 |
| Mithril | 5 |
| Adamant | 9 |
| Rune | 19 |
Agility Xp
Agility is the only skill in the game so far that does not use an xp orb to level up. With Agility, there are yellow blocks with a person running on it at the end of each agility course. The amount of experience you get for doing each one can be from 1-20 xp for completing by right clicking the block. The amount of experience you need to level up is the same as with combat and mining. When you level up Agility you gain an effect that lasts forever.
| Effect  | Level Required |
| --- | --- |
| Jump Boost 1    | 10 |
| Speed 1, Jump Boost 1       | 15 |
| Speed 1, Jump Boost 2 | 20 |
| Speed 2, Jump Boost 2 | 25 |
Xp Need For Each level
| Level | Xp |
| --- | --- |
| 1 | 0 |
| 2 | 10 |
| 3 | 30 |
| 4 | 60 |
| 5 | 100 |
| 6 | 150 |
| 7 | 180 |
| 8 | 224 |
| 9 | 248 |
| 10 | 276 |
| 11 | 302 |
| 12 | 336 |
| 13 | 370 |
| 14 | 408 |
| 15 | 452 |
| 16 | 498 |
| 17 | 600 |
| 18 | 720 |
| 19 | 850 |
| 20 | 950 |
| 21 | 1,060 |
| 22 | 1,200 |
| 23 | 1,700 |
| 24 | 2,300 |
| 25 | 3,000 |
| 26 | 3,800 |
| 27 | 4,700 |
| 28 | 6,100 |
| 29 | 7,320 |
| 30 | 8,784 |
| 31 | 10,540 |
| 32 | 12,648 |
| 33 | 15,178 |
| 34 | 18,214 |
| 35 | 21,857 |
| 36 | 26,228 |
| 37 | 31,474 |
| 38 | 37,769 |
| 39 | 45,323 |
| 40 | 54,388 |
| 41 | 65,265 |
| 42 | 78,319 |
| 43 | 93,982 |
| 44 | 112,779 |
| 45 | 135,335 |
| 46 | 162,402 |
| 47 | 233,859 |
| 48 | 280,631 |
| 49 | 336,757 |
| 50         | 404,108          |